First Unitarian Universalist Church of Essex County
Notable Early Members of the First Unitarian Church of Essex County
The Aborn family, very active in the church, was headed by Margaret Lyman Aborn, and included three of her sons, Benjamin Aborn, Edward Aborn, and William H. Aborn, who were all in the coffee business. Edward Aborn, a leader of the church's Unity Club, also for a time the superintendent of the Sunday School, patented several coffee-brewing devices and processes. William H. Aborn was one of the founders of the first ambulance service in the Oranges, and served as an East Orange City Councilman. For more details, see our Aborn family page.
Katharine H. Browning, was a trustee of the church from 1892 through 1904, and a leader of the Women's Alliance. Her husband Ross C. Browning [1832-1899], though not on the membership roll, was noted in 1895 as being the church's "largest subscriber." The church's annual lawn party was held on their grounds in the 1890's and early 1900's. Ross C. Browning, born in Barre, Vermont, had lived in Richmond, Virginia, where he and Alvin Jewett Johnson published an atlas of the world. He moved to Llewellyn Park in 1865, and was president of the Metropolitan Manufacturing Company, makers of clothes wringers, until retiring in 1891 or 1892.
Norbert and Maja Čapek, who became Unitarians when they joined our church On January 10, 1921, went to Czechoslovakia later that year, and by the next year had organized in Prague what became the largest Unitarian congregation in the world. For much more about the Čapeks, see http://essexuu.org/capek.html.
Warren Delano, Jr. [1852-1920], one of the founding members of the church, and a member of its Board of Trustees from 1890 through 1903, was an uncle of Franklin Delano Roosevelt. He was in the mining business. A brief biography of him, and a list of his children, can be found on the Delano Homestead web site at the end of the page http://www.delanohomestead.com/bed-and-breakfast/family_history2.html, where he is referred to as "Warren Delano III" to distinguish him from his father (FDR's maternal grandfather), "Warren Delano II," [1809-1898] who was also called Warren Delano, Jr.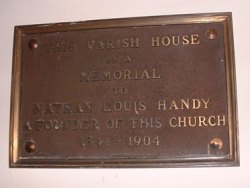 Nathan Louis Handy [1841-1904], one of the organizers of the church, was born in Woodstock, Conn. He married Martha Pierce of Worcester, Mass. in 1870, and and came to the New York area around 1880. He was with the firm of Stevens, Sandford, & Handy, wool merchants, of 47 Worth Street, New York City. After his death (March 22. 1904), his widow, in accordance with his wishes, provided the funds for construction of the Parish House (completed 1905).
Clemens Herschel [1842-1930], one of our founding members, and a member of our Board of Trustees from 1890 through 1893, was an hydraulic engineer, who in 1887 had invented the first commercial flowmeter based on the Venturi tube, which became known as the "Herschel Standard Venturi." For that invention the Franklin Institute awarded him the Elliott Cresson gold medal in 1899. Herschel was the manager and superintendent of the East Jersey Water Company from 1889 to 1900. During his time in New Jersey he published two books: 115 Experiments on the Carrying Capacity of Large, Riveted Metal Conduits (1897), and a translation of a Latin manuscript on the water supply of the imperial city of Rome (1899). For more about him, see the Dictionary of American Biography vol.8 pp.595-596 (1942) and Walter George Kent, An Appreciation of Two Great Workers in Hydraulics (1912) pp.21 et seq. (with a portrait of Herschel at p.20) (readable online at http://openlibrary.org/b/OL7252910M), .

Henry Forster Hitch [1835-1913], the first President of our church, served in that office from 1890 to 1898. Mr. Hitch was in the business of importing and exporting. He had worked for Henry Forster & Company, in Pernambuco, Brazil, from 1854 to 1861, when he established the shipping house of H.H. Swift & Company in New York. "In 1871 Mr. Hitch became a resident of the Montrose section of South Orange, New Jersey. ... He was village trustee; was the first treasurer of the free library; ... was a member of the New England Society from 1872, vice-president, 1889-1891, president, 1892, and for several years. He was prominent in the social organizations, aided in organizing the Orange Lawn Tennis Club, and for a number of years was its president; was an organizer and member of the first board of directors of the Orange Athletic Club; ... Henry F. Hitch married Elizabeth Delano, of New Bedford, Massachusetts, ....." --David L. Pierson, History of the Oranges to 1921 (Lewis Hist.Pub.Co.1922), p.359-360. Considerable further details about Henry F. Hitch and his children can be found on the web site of his descendent Mike Hitch at http://www.mikehitch.com/me/1308.htm.
George Merck [1867-1926], the founder of the United States branch of Merck and Company in Rahway, New Jersey, joined our church, with his wife Friedrike, on March 21, 1913. They had already been hosting the church's annual lawn party at their residence in Llewellyn Park since 1907, and continued to do so most years through 1919.
Minola Graham Sexton [1859-1922], who joined our church in March 1892 and was President of the Orange Branch Alliance in 1897, was a prominent member of the women's suffrage movement. She organized the Orange Political Study Club in 1898, and was President of the New Jersey Women's Suffrage Association from 1900 to 1905. She lived near the church, at 172 Cleveland Street. Her husband Chandler Sexton, also a member of the church, was a publisher.
Mary Ella Swan, born Tyngsboro, Mass. 1847, went to New York 1868, was a teacher in the Orange public schools for 35 years, 1874 to 1909. Many years active member of the Orange Mendelssohn Union. Died Oct. 1912, survived by her mother Mrs. Harriet M. Chamberlain, three sisters (including Anna P. Chamberlain of East Orange) and two brothers. Funeral at First Unitarian Church, officiated by Edward Hale. Interred in Rosedale Cemetery. Served as trustee of our church in 1911-12. The de la Robbia bas reliefs in the Parish Hall are a memorial to her.
Thomas Fenton Taylor, B.A. Harvard 1875, LL.B. Columbia 1877, one of the founding members of our church, was a lawyer in New York City, and the author of articles about the "Dwight Method" of legal education, 7 Harv.L.Rev. 203 (1893) and about law practice in the city, 10 Harv.L.Rev. 23 (1896).